Weight related topics are some of the most talked-about and emotional conversations you will ever have with anyone. For a woman, weight topics are strenuous and difficult. Society has built such harsh rules on how to perceive weight that we don't blame today's gender that is obsessing over it. Although, the topic has subsided to another level now, people are more accepting of their body type and figure. However, no matter what you say we love to know what the celebrities are up to. From health to breakups, celebrity weight stories have always been one of the most interesting topics.
There is no doubt that being overweight is not only good for the health, but also takes hard work and willpower to go through, without looking back.
We remember her from the American Idol show where Jennifer wasn't all that fit, however did steal the heart of millions. After trying all sorts of dieting plans, detox courses and body cleanses programs, Jennifer was still finding it hard to lose some pounds in the right way. In August 2009, after she gave birth to her baby boy David, she decided to take this more seriously. She told Good Housekeeping about how she didn't want her son to have a mother who gets tired easily or finds it difficult to run behind him during play time. She wanted to teach him how to stay healthy right from the time he was a kid.
She, then turned towards Weight Watchers for advice. A team that helps provide the right way to eat and exercise, was the main reason behind Jennifer's new figure. She was also allowed to eat food that she loved while keeping a watch on her body, at the same time. With timely and good exercising methods, she slimmed down from a size 16 to 6 in a healthy manner.
This famous singer and American Idol veteran was known to be a little more on the bigger side and she was absolutely okay with it. She loved her body the way it was and never really cared much about society norms, which is great we say! However, we keep forgetting the kind of health problems that could come out of eating unhealthy food or not exercising your body regularly. In 2010, shortly after Broadway, Jordin got sick for a while which was due to her weight and unhealthy eating lifestyle. She knew that it was the time to get her act together and not deprive her body of the needed supplies.
She went through an entire diet-change program and did it in an organized and detailed manner. From understanding what to eat, when and why she should eat different kinds of food was a minor part of her diet-makeover. She then started adding exercises to her daily routine, slowly. She started taking interest in hiking and would make it a point to walk around her neighborhood. After months of hard work and undying efforts, she eventually joined a gym with regular zumba classes to work out at. She goes on to say how there is no easy way to shed pounds, one must be dedicated and determined to wait for results. She had lost approximately 50 pounds in 2012. Way to go Jordan!
They say that eating in the right amounts is the key to a healthy diet and this trick worked wonders for her. We remember her from her days on The Osbournes, a reality TV show based on her family. Kelly was young, angry and blatant about using vulgar language on the set. She had coped with weight issues for years without any luck of getting into shape.
In 2009, she went on to Dancing With The Stars where she met her dance partner, Louis Van Amstel. It is through him that she learnt about the importance of good eating habits and how she should and could learn to never deprive her body of energy. She explained how meats like Turkey and dishes like green salads not only provide a high on protein diet but also supplied energy to the body to remain active. She switched to low-carb foods that she liked and indulged in pizza once in a while. She learnt that the trick to eating the right way is knowing when you're full. She stops eating the moment she knows that her stomach doesn't need anymore! She admits that it took her 26 years to learn, but now she sticks to healthy eating in right proportions. After the show ended, she continued to keep herself active with plyometrics classes, short gym sessions and occasional hikes.
Graham Elliot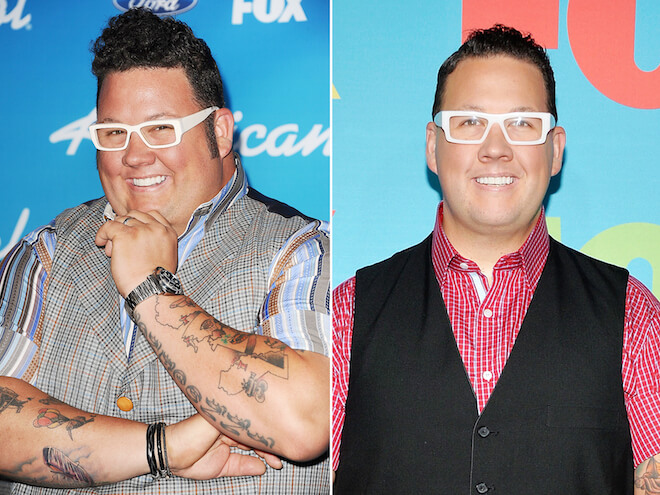 The 38 year old MasterChef judge weighed around 400 pounds in 2013. Multiple issues due to his overweight body started arising. Daily Mail UK mentioned that he, then had to turn to surgery while Dr. Vivek Prachand came to his rescue. Director of minimally invasive surgery at University of Chicago medicine, Dr Prachand helped Graham come out of his problems by pitching a gastric sleeve. It helps minimize the exterior of a stomach to the shape of a banana without inhibiting digestion. He thought it was reasonable and the best way to start.
The doctor stressed on how Graham was an appropriate patient for this kind of a treatment. It made him feel better about himself and started exercising regularly. His cholesterol and blood pressure levels lowered drastically and he could cut down procedures, he performed to prevent damage. In May 2014, he completed his first 10 km run in one hour and 16 minutes!
Graham has now switched to a healthier diet. High on chicken and salmon, he also relishes salads made in different styles. He slowly cut down unhealthy foods like pasta, bread and the sweet stuff. He has now turned to fruits & vegetables along with the popular "apple and peanut butter" as a sweet dish. He has developed a liking for all natural foods and flavors. He has understood the importance of eating food that gives energy while making sure he consumes everything in the right proportion. Graham's weight fell below 240 lbs by 2014! Now, that's what we call an inspiring story, right?
He has done around 123 movies and is one of the most popular actors on-screen. With a brilliant job done on Sons Of Anarchy, Tom was definitely one of the best actors on-screen for a long time. Although, life had offered him whatever he wanted, there was one major issue that always bothered him and that was his weight. In an essay that he wrote, he talks about how embarrassed he was of his physique and how he would never want to get onto any weighing scale. He has a tendency to get obsessed with things and wanted to stay away from weight obsessions.
In 2013, he was going to be a father. They had a boy on the way. It was at that moment when Tom decided to not take his weight issues lightly anymore. He wanted to be a great dad and teach his son how to play sports as well as all the outdoor activities, a father and son do!
He started with cardio sessions that he would write and make a note of. He gave most of his time to his son and dedicated working out at the times, he was asleep. He began with two cardio sessions in a day. He then hired a trainer, MB Regan who would do sessions at Tom's house thrice a week for about an hour a day. There were times when Tom didn't have much time but did at least a 30 minute high-intensity workout with Regan. Regan taught Tom how to do quick workouts in hotel rooms as well. His mission of wanting to lose at least 100 pounds finally came through and Tom is now working on firming up his skin and body. Good luck Tom, your hard work has paid off!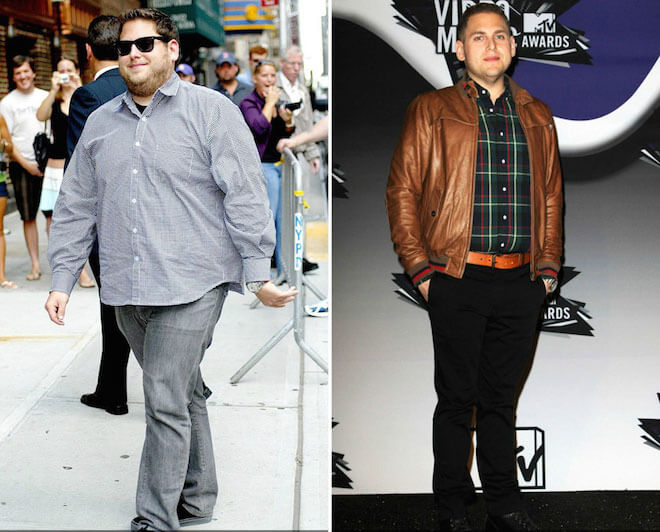 With the commencement of his commendable acting career with Superbad back in 2007, Jonah has had the most fluctuating weight stories amongst celebrities. With being fat to losing tons of weight, Jonah had put on weight again in 2014. The fluctuating weight pattern was the favorite topic amongst multiple headlines at that time. The famous actor from Wolf of Wall Street and Moneyball, Jonah Hill was at least 270 pounds before the Hollywood offers started to flow in. Undoubtedly, one of the most brilliant actors in the industry, Jonah is the favorite of millions around the world. During his movie Moneyball with Brad Pitt, he received constant advice from Brad to cut the pounds and get healthy for many reasons. He, then lost 50 pounds!
However, according to OK Magazine, Jonah has gone back to unhealthy eating and his ignorance towards health has kicked in. We all know and there is no doubt about the fact that Jonah is the most talented comic actor we have in the industry today. We do truly hope he resolves to healthier ways and not take health problems lightly, specially for an actor whose routine is never consistent.