5 ft 5¾ in, mirror cracking beauty, Shilpa Shetty can slaughter anyone just with her killer looks. Some celebs actually grow prettier and sexier with aging, and Shilpa Shetty undeniably is one of them. There has been drastic transformation in her personality and appearance from her role in the movie, Baazigar (1993) to her being judge of Nach Baliye season 5 and 6. There is nothing wrong in rendering some credit to her genes in having her relish slender figure. However, she also devotes enormous time and energy in honing it.
Famed for her marvelous dressing sense, trimmed waist, and incredibly toned figure, Shilpa indeed has the most captivating and fit body. After winning the popular TV show, Celebrity Big Brother 5, the Indian beauty created an ever-lasting impression on Britishers and had them grow inquisitive to know her fitness secrets. Instead of keeping her secrets about divine body to herself, Shilpa preferred sharing them with the world. She released three yoga video CDs in which she being the yoga guru is telling the correct ways of executing yoga and pranayam.
Post Pregnancy Weight Loss
Married to famous businessman Raj Kundra since 2009, the fabulous actress gave birth to her first child, son Viaan in 2009. Having bulked up numerous pounds, the fitness deity grew eighty pounds during that time. Shilpa cites her high fat diet which included ghee, milk, and other fatty products for the unsolicited pounds she gained.
Without being in panic and hurry, Shilpa waited for four and a half months to switch to workouts. However, her main objective to shed weight was not to get fit into her skinny jeans, she rather dropped weight because she not being accustomed to hefty body was facing difficulty in sitting and bending. Under the direction of her fitness trainer, Vinod Channa, the stunner began with light workouts such as cycling, walking etc. for fifteen to twenty minutes thrice in a week. She gradually enhanced both the intensity and time spent on them. And within ten months past the birth of her son, Shilpa shed twenty kgs and switched back to slender shape.
Since it's difficult to execute workouts as per your convenience, when you have the little bundle of joy requiring you at its service 24*7, Shilpa managed to do her workouts in the afternoon when the baby was asleep. The sensational celeb succumbed to Blood Type diet to promote weight loss process. However, instead of shedding weight, the plan added three more kilos to her weight. And from then on, she seldom thought of adhering to such diet programs. She rather embraced wholesome and balanced diet. Being a nursing mother, she consumed 2200 calories in a day which were comprised of low carb, high-protein, and high fat food items.
Shilpa Shetty Diet Plan
While consuming 1800 calories in a day now, Shilpa begins her day with amla or aloe vera juice. And to fuel her with energy, she doesn't forget to feed her body with carbs. However, she makes sure that the carbohydrates she gulps down is low in glycemic index. While renouncing white carb, she inculcates brown carbs such as brown rice, brown pasta, brown sugar, brown bread etc. in her diet. Shilpa cooks wholesome foods such as salmon, turkey, veggies etc. in olive oil, which indeed is packed with nutrients. After having strenuous workout session, Shilpa consumes protein shake, eight black raisins, and two dates. She abides by discreet diet for six days and relishes one cheat day in a week to enjoy her craving for sweet foods. Shilpa doesn't point up consumption of snacks in between meals, for it bumps up her calorie intake.
Shilpa Shetty Workout Routine
The exquisite beauty practices all kinds of workouts to sculpt her body. Right from cardio workout, to strength training, to yoga, she is not alien to any form of workout. Having allocated five days in a week to all the workouts, she practices yoga for two days, strength training for another two days, and cardio for one day. She has further divided her strength training workouts into upper and lower body workouts. In strength training, instead of being reliant on light weights, she banks on heavy weights to shape up her muscles. She also meditates for ten minutes after yoga to wash out stress.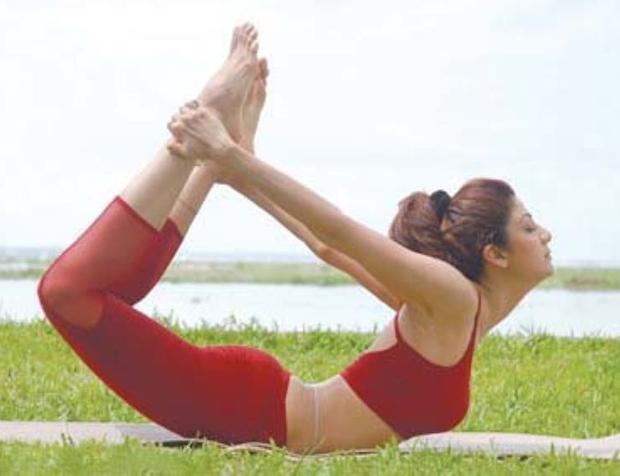 Healthy Recommendation For Shilpa Shetty Fans
Here is one recommendation for Shilpa Shetty fans which will support you in making your food choices. While reading fitness regime of celebs, you would have heard them steering clear from processed foods. However, it's not feasible to do that completely. Here are some processed foods which you can eat without being guilty.
Almond milk – Almond milk being free from sugar, gluten, dairy, soy, and other artificial ingredients nourish you with Vitamin B12, calcium, vitamin D, dairy milk.
Raw nut butters – Besides being free from sugar, raw nut butters contain nutrient packed nuts. You can eat the processed food without being worried about the circumference of your waist.
Organic Coffee – Credited with magnesium, vitamin B, liver detox properties, and brain stimulants, organic coffee can be consumed twice in a day.
Flax Meal – Apart from being easy to cook, flax meal has yum taste. Dense in omega-3 fatty acids, proteins, and fiber, the food item provides you adequate nourishment.
Mustard – Mustard which is widely used condiment perk up the taste of your meals without having you gain weight. However, since myriad varieties of it are available in the market, pick those having no added sugar, sodium, and preservatives. Besides controlling your hunger, mustard also fires up your digestion.