Victoria's Secret is one of the largest American retailers of lingerie. It was founded by Tufts University and Stanford Graduate School of Business alumnus Roy Raymond, and his wife Gaye in San Francisco, California in 1977. It is a subsidiary of Limited Brands.
So, now this brand has achieved much importance and so are their models. Their models' catwalk are the things much talked about. Their fitness levels, hence, comes into play. Some of the famous VS models gets the status of Angel. To make the angels look distinct, they are given wings or feathers during their catwalk. Currently (when this article was written in December 2012), there are many angels – Lily Aldridge, Adriana Lima, Alessandra Ambrosio, Miranda Kerr, Lindsay Ellingson, Behati Prinsloo, Candice Swanepoel, Doutzen Kroes and Erin Heatherton.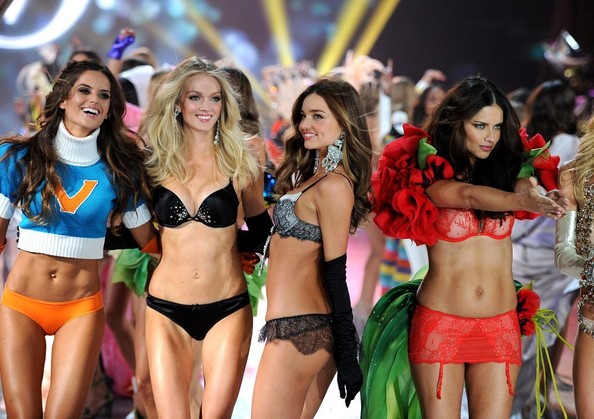 Lets discuss their dieting habits and exercise routine.
This Brazilian hottie who is also a doting mother of 2 children (daughter Anja [born 2008] and son Noah [born 2012]) is still very fit and elegant. She approached her trainer, Leandro Carvalho. According to the requirements of Ale, he came up with the idea of "Brazil Butt Lift." She performs elastic bands, capoeira, ankle weights, an exercise called "on the beach". She got what she wanted (long legs, thin thighs and tight butt) with this schedule.
Regarding diet, she is a foodie and likes to eat whatever she wants. Like, she eat eggs with bacon in the morning. Lunch would consist of non-vegetarian and salad. Her evening meal consisted of snacks, nuts, coffee. In dinner, she would eat Japanese food, dessert like s'more. See her full workout routine and diet plan.
The Australian beauty Miranda does ballet, yoga and Pilates regularly to keep herself fit. Andie Hecker, the founder of Ballet Bodies and trainer of Miranda shared some of Kerr's moves.
Fondue to Arabesque
Arabesque Pulses –
Inner Thigh Splits to Sous-Sous
Side Lying Développé Series
Supine Grand Battements Series
These are some basic ballet moves, which are good for giving shape to buttock and arms muscles.
Regarding diet, she takes Blood Type Diet, that is, the diet which aims at eating depending upon blood group. She is blood type A and eats accordingly and also she does not like to eat meat. So, she eats mainly iron rich foods. Miranda also have some splurges like ice creams, chocolates, etc. So, in order to fulfill that desire, she eats on the principle of 80/20. This means, she is allowed to eat 80% healthy food and 20% for favorite foods. Miranda says –
"I also eat low-GI, high-alkaline foods, drink filtered water and eat mostly fresh produce and very little meat."
For an amazing explanation and a video, please see her full routine here.
This Namibian model and VS Angel really likes to swim. Her workout exercise is swimming and related to water sports. In her school times also, she was good at it. Now, she opts for paddle boards, and does surfing whenever she gets an opportunity. Pilates are the ones, which she enjoys besides water games. Pilates include exercise like stretching, the ones involving exercise balls, mat exercises, etc. So, her workout schedule is somewhat thrilling and full of fun.
Regarding diet, she takes a good diet but also can't keep herself off of smoking. She gives more importance to smoking, then comes the food. But, there's a good thing that she drinks a lot of water, which is good for reducing appetite or hunger. But, she is actually underweight or near to it. Due to her weight, she was also called off from Madrid's fashion show in 2006. See her full workout and diet plan.
South African model and VS Angel, Swanepoel do workout with her trainer, Justin Gelband. He works with this model and says there are 5  key exercises on which she works – balance, lower back, hip, butt, and stability. To develop these areas, she does kickboxing, jump ropes and pick little weights also to build little muscles. In her own words –
"I love walking up on the runway. I box, I do a lot of resistance, three times a week."
Regarding diet, she can easily manage her diet plan. It is not difficult for her to maintain or stick to a particular diet plan. But, while travelling she do feels some difficulty in following a particular plan. So, in that situation, she eats whatever she wants. Pizza and pasta are her favorite food for which she does not need to do dieting. See her full routine.
American model and VS angel likes to do cardio in the form of running and also yoga. She does her workout 4 times a week, with trainer. She focus on her full body rather than on a specific body part. For that, she goes for High Intensity Interval Training (HIIT). Weight resistance is her favorite exercise. She wants to say something –
"I like to inform my trainer of upcoming events so that we may coordinate a proper workout plan for each event. Sometimes the workout intensifies depending on the upcoming schedule."
Her workout consists of around 1 hour every day. In order to remove boredom and develop whole body, she does a variety of exercises.
Her diet is simple and balanced, just like her workout. She eats healthy and in small portions to maintain her body weight and energy levels. See her full workout routine and diet plan.
This American model focus on her workout sessions 4 or 5 times a week. She visits Justin Gelband's gym in New York City and then decides which exercises to do. (Actually, Gelband decides the exercise to be done). She likes to work more on her butt and arms and for that she does exercises like boxing, pilates and sliders. These are also her favorite areas to work on. It just depends on her near future, i.e., the modeling work, assignments and photo shoots.
She also takes Blood Type Diet. But, Gelband does not keep a check on her eating style. He says that if she would eat wrong or unhealthy, it will be reflected by her body. She worked with Victoria's Secret till 2011.
Brazilian beauty and a mom of 2 children looks hot and sexy. After her first pregnancy, she took the help of personal trainer Michael Olajide Jr. He is a former boxing champion and co-founder of Aerospace, Manhattan's Sleek. Her fitness routine is also like other VS models. She says she does boxing training and pilates. Lima trained with Olajide 3 times a week in Aerospace High Performance Centre in NYC. Just after 6 months of giving birth to Valentina in 2009 (first child), she did lots of boxing in the ring and achieved the body for which she was running after.
She says that before modeling show she cuts all of the solid foods and just intake liquids. Before 12 hours of the show, she does not consume anything, not even water. But, this is not recommended to anyone. Please don't try to get that look by such practice. There are some alternatives.

American model Ellingson trains with Mark Gordon. She likes to work on her butt and legs parts. In the following video, you will know about each and every step of her.
Dutch model and VS Angel likes the services of trainer Michael Olajide Jr (from whom Adriana Lima once took the help). She likes to do leg workouts and for that she spends 3 times per week with the trainer. There's a short video explaining her moves.