We are always excited about weddings. It not only marks the beginning of two souls but also reminds us of a weekend full of pretty dresses, well-groomed men, and loads of alcohol. Other than the wedding of people around and close to us, we have to admit, we LOVE celebrity weddings. Celebrities know how to do it big. Better yet, they make sure it looks darn good in the videos and pictures. We like to know everything, right? The amount of money spent, the venue, the bride's gown, bridesmaids, theme and of course, gossip.
Last year, we saw some of the biggest celebrity weddings. Like George and Amal Clooney who got married in the canals of Venice, Brad and Angelina who had their kid's doodles printed on the gown and of course, Kim and Kanye's Paris and Florence celebration. Looking back, we can only hope 2015 to be even bigger and better.
Although, there are many couples looking to get hitched, here's the list of celebrities, we are hoping will tie the knot this year. While we have been waiting for a long time for most of them to finally break the news, we are hoping that couples like Jennifer Aniston & Justin Theroux, Courteney Cox & Johnny McDaid and Hayden Panettiere & Wladimir Klitschko get those wedding bells rings and bring it on this year. However, honestly, we do hope that all of them tie the knot soon!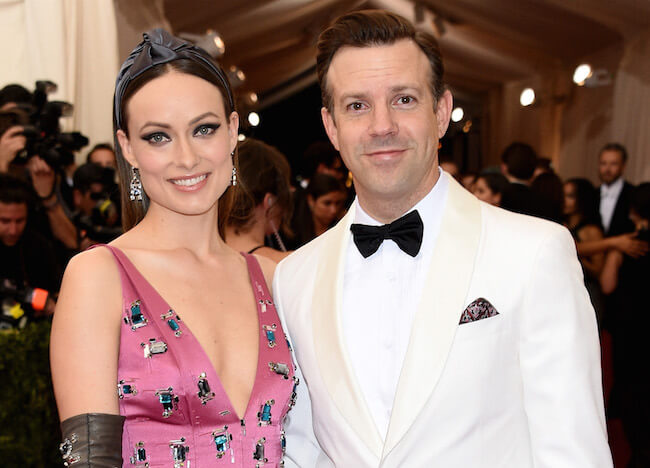 The gorgeous Olivia Wilde who gave birth to Jason's baby, Otis Alexander in 2014 has been battling rumors about their marriage for a while now. The media has been obviously anticipating thus assuming that they are going to do it soon. She confirms that anything the media is talking about is satire. They aren't sure when they will finally go ahead with it. However, for now, one thing we know for sure is that "Monique Lhuillier" will be designing hers and her bridesmaid's looks.
When they got engaged in 2013, Olivia told InStyle magazine about how deeply in love she was with Justin and how lucky she feels to spend her life with someone she respects. While Justin was raving about the same to his friends and family on how blessed he feels to have gotten a partner in her.
Though we have to say, we can't wait to see this stunning couple walk down the aisle and wish them an awesome fairytale life!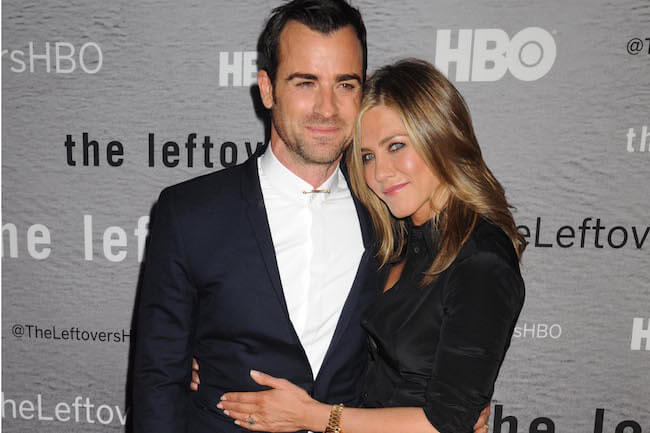 They have been engaged since August 2012, and have been in the limelight since then. The pair is so happy with how their life is turning out with each other that they aren't stressing or thinking about marriage. During their relationship, there have been multiple rumors about a secret wedding, fights, and breakups, however, most of them turned out to be lies.
On one of Ellen DeGeneres shows, Aniston expresses how difficult it has become for them to even host a casual party as people have started thinking that it's their secret wedding!
Jennifer has and will be America's sweetheart, for many, she is still the adorable Rachel Green from the famous TV show "Friends." It is obvious that everyone wants to see her happy and finally get married to Justin.
Ever imagined what it would feel like to have Snow Patrol's frontman go down on his knees, with two rings, one for your little girl and one for you? We definitely would faint right there. Some lucky girls like Courtney Cox were proposed in the most adorable way. He proposed her at her best friend, Jennifer Aniston's house.
However, it has been reported that they are planning to marry at Ashford Castle in Ireland. We hope this is true unless they have already secretly eloped. But, we would all love to see a big wedding at a castle, right?
The pretty couple has been engaged since December 2013 and seems quite compatible for two ridiculously good-looking people. Ever since then, we have been waiting for confirmed news on their marriage date. The only piece of information Jamie has offered so far is about how she wants the wedding to look and feel. Rustic, colorful and outdoors are some of the hints she has given so far. The wedding could be in California or Wyoming, depending on the circumstances. There also seems to be some news about her wedding dress fittings with the famous Monique Lhuillier who will be designing her look. She wants to go for something rather simple looking than sport a big fancy gown.
Their planning and preparations have already begun and we hope to hear them announce the date of the ceremony soon! We understand you are as excited as us!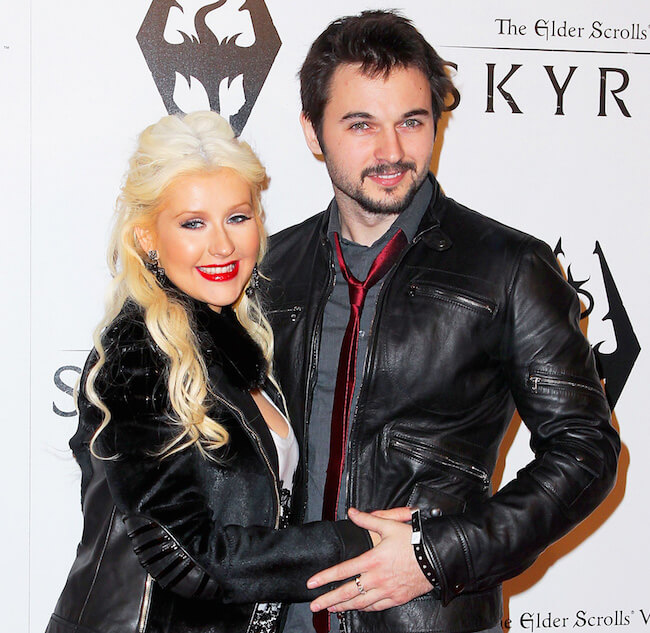 The two were dating for almost three years before they finally got engaged on Valentine's Day, 2014. After which, they had a gorgeous baby girl and moved into a new home they call, "The Sanctuary." The six-time Grammy winner and her husband Matt have loads of work to do and will be busy for a while, hence they want to keep the marriage topic for some other time in future. Christina said that she doesn't want to do it in a rush hush manner and concentrate on wedding plans when she has more free time. They want to cherish and make memories out of the big day and not do it for the heck of it. We definitely agree!
This couple has been shunning the marriage topic thrown by the media now and then. However, we strongly believe and hope that they do make their happy ending happen as soon as possible. We continue to root for this couple to tie the knot in 2015!
The star of the TV show, "GIRLS" has been engaged to the co-founder of CollegeHumor since a year now and we have been anticipating for the moment when they decide to make the next move. This absolutely adorable couple look lighthearted and reflect a lot of happiness through their chemistry. Unfortunately, time was not on their side. Briefly after their engagement, actress Allison Williams was then selected for Peter Pan Live which caused this Disney looking princess to delay her wedding planning for a while. They then, faced some other professional and familial issues of which very little has been spoken about.
Although time wasn't on their side, we do hope they finally get to plan their big day. We are looking forward to a very Disney and princess-like wedding in the making! Despite all the odd issues that came along, we are extremely glad that Allison and Ricky both are keeping it together and being positive about the same.
Now, this is one couple that has already begun their wedding preparations. They had started planning their nuptials a long time back, however, had to keep it on standstill due to multiple and different issues that came along. The 30-year old fashion designer is now preparing for her big day in full swing. After their engagement in November 2013, Whitney had spoken about how she feels about her lover Tim. She mentioned she feels blessed to get a partner like Rosenman and can't wait to be married or start a family with him. As Whitney hails from a big family of 5, she is already very eager to have her own babies in the near future.
She has started her planning with the biggest step of all, for a woman, her bridal dress! With the clock ticking, she is yet trying out different styles and looks to see what she can pull off in the best manner. Although they haven't revealed the exact date yet, we know and are certain about a 2015 big wedding for these two cuties.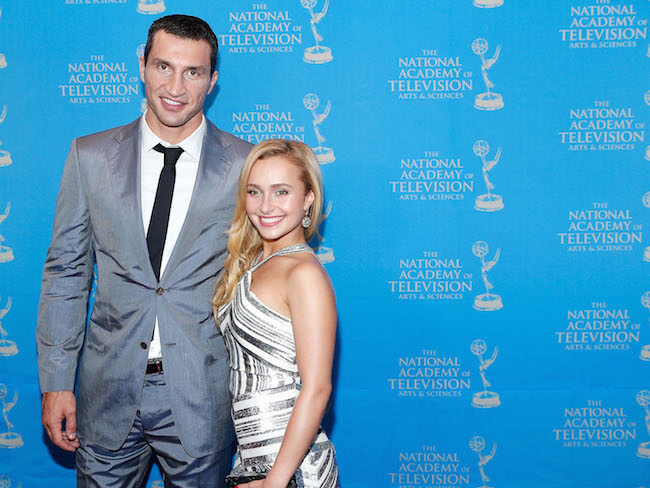 Wladimir and Hayden got engaged back in October, 2013 and have kept their wedding on hold since then. This Nashville actress is apparently putting her wedding with her boxer fiance on hold for a while. They have a beautiful baby together and between her career and parenting, she explains how she doesn't have enough time for her, to plan her dream wedding. Very little has been heard about any problems between the two, hence we do hope that they continue to enjoy their engagement more with every passing day.
Though, we have to admit their reasons of delaying their wedding was justified. First, they had their baby. Parenting does take up a lot of time and energy, leaving not much room for other thoughts. After which Ukraine was hit with political issues and propaganda. As major part of the boxer's family lives in Ukraine, further delay of the marriage was obvious and logical. Now that everything has passed and the storm has finally calmed down, we do hope this ravishing couple finally tie the knot soon. We wish them all the best in their endeavor and shower them with loads of blessings.