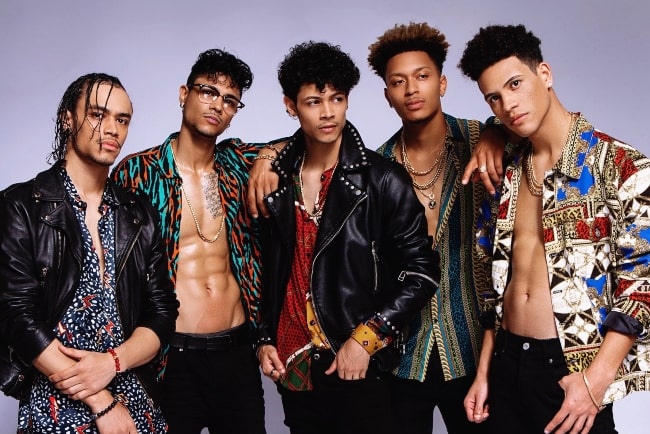 B5 is an American band that consists of 5 members and originated in St. Petersburg, Florida, the United States in 1998, under the accolade TNT Boyz and Audio. Together, the boys have released several hit tracks such as U Got Me, Wave, and Hydrolics.
Members
Origin
St. Petersburg, Florida, United States
Genres
R&B
Labels
Bad Boy Records
Worldwide Entertainment
UpFront Records
Motown Records
Walt Disney Records
Formation Date
1998
Singing Portfolio
They have worked with several well-known music producers such as Rodney Jerkins, Ryan Leslie, Sean Garrett, Corna Boyz, Bryan Michael Cox, Mario Winans, The Underdogs, Mischke, and Veit Renn.
B5 has cited The Jackson 5, New Edition, New Kids on the Block, Troop, NSYNC, Boyz II Men, Another Bad Creation, B2K, Jodeci, Backstreet Boys, All-4-One, Color Me Badd, Blackstreet, Jagged Edge, 112, Soul for Real, and Hi-Five as their inspirations.
They have toured alongside the likes of various well-known music artists including Akon, Mario Winans, Kanye West, Ginuwine, Usher, Fantasia, Bow Wow, Chris Brown, T-Pain, Omarion, Soulja Boy, and NSYNC.
B5 Facts
They are managed by Jim McMahan.
In 1995, Dustin Michael, Kelly Allen, Patrick Owen, and Carnell Frederick formed the band under the title TNT Boyz in St. Petersburg, Florida, United States. However, after their youngest brother Bryan Jesse joined them in 2001, their band's name was changed to B5. Later, they relocated to Atlanta, Georgia.
It was their mother and aunt who encouraged them to pursue their passion for music.
B5 is a denote of Breeding 5 similar to The Jackson 5.
They released their debut album on July 19, 2005, which consists of the singles Let It Be, U Got Me, and All I Do.
During a performance of theirs at the Radio Disney Jingle Jam Tour at Brookdale Mall on November 12, 2005, they were rushed by thousands of girls and stripped of their shirts, shoes, and earrings.
Dustin embarked on a solo journey in 2015 and released his debut single Pay It Forward in November 2015.
In 2018, B5 came back together with the release of their single Do That.
Featured Image By B5 / Instagram