NBA players are often ranked by their statistical achievements, earnings and physical skills. But, there is another approach that we can adopt, to define how wealthy they are, besides their financial accounts. As celebrities, there is no way to avoid their private lives and who they are dating or marrying.
Here are some of the most celebrated athletes today who are married to lovely ladies and make great couples. The list offers the beautiful women of the NBA superstars, who have taken basketball to the next level. Some of the ladies also have a huge contribution in their success and achievements. This is not a definite list and each of you can suggest another lovely couple, but it is still a good way to show the love of the lives of some of the top NBA players by Rant Sports.
Even if Michael is not playing in the NBA since a very long time, he deserves to be here on this list. He married the beautiful Yvette Prieto in April 2013 and they have wonderful twin daughters. They met seven years ago and you might be aware that Michael had already two sons and a daughter with his ex-wife Juanita. After one of the most notable divorces in history, Michael deserved a beautiful woman on his side. But, also his team to evolve and progress in the NBA. This is an honorable mention of arguably the greatest basketball player in history. Michael is 52 years old, with six NBA Championship rings with the Chicago Bulls and a net worth of $1 billion as per estimates of Forbes.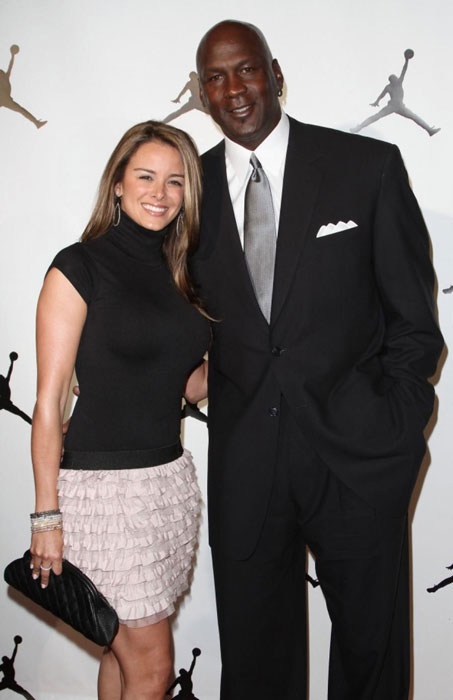 Vanessa and Kobe are married for fourteen years and their union has captured the public's attention through time because of their many ups and downs. Kobe was starting to become a superstar and winning championships when he was accused of sexual assault. A Colorado woman has accused Kobe but Vanessa stood by his side and they got over it. But Kobe wasn't so lucky and lost the Adidas sponsorship. They had another difficult period in 2005 when Vanessa suffered a miscarriage due to an ectopic pregnancy. But they stood strong together and overcame all the problems. Kobe and Vanessa Bryant have started a public charity foundation to improve the lives of the homeless. He has five championship rings with the Los Angeles Lakers and a net worth of $260 million.
Golden State is living its glory days when it comes to basketball. The Warriors have made a significant progress in the recent few years and Stephen Curry is one of the people to whom they are thankful. Stephen made an outstanding individual and team progress in the 2014/15 NBA season. His team is among the top in the Western Conference standings and he is in the race to become NBA's Most Valuable Player. Stephen is married to Ayesha since 2011 and they have one lovely child. Ayesha has her own cooking show on YouTube called Little Lights of Mine, which offers tips and recipes. The show has over 16,000 subscribers and her Instagram account is followed by 136,000 people. Currently, they are a highly celebrated couple due to Stephen's amazing career.
Dirk Nowitzki & Jessica Olsson
The Mavs and their owner Mark Cuban wouldn't be so successful if there wasn't for Dirk. Germany's most famous basketball player is probably at the end of a magnificent career. But he has done a lot for his name to be among those in the Hall of Fame. A championship ring and many other sports achievements make his career so valuable. Jessica is taking care of his personal life. They have been married for three years and have two lovely kids. Dallas Mavericks and Dirk are making the effort to be NBA title contenders since they are among the eight teams which will participate in the 2014/15 NBA Playoffs.
This is probably one of the most devoted couples in the NBA. Chris has been married to Jada for four years and they show their love to the public, unconditionally. The fans of Chris and the Los Angeles Clippers are familiar with his children because they are often present in his conversations with the Press. If you follow the Instagram account of Chris, you will see numerous pictures of him with his wife. It is a way of showing love to Jada and his children. His team has reached a high level of competitive spirit since they have been NBA Title contenders in the previous few years.
Carmelo and the New York Knicks have been terrible in the 2014/15 season, but at least he has an amazing wife. They are married for five years and the NBA fans recognize them as the loveliest couples in the sports fraternity. She is a TV personality, author, and actress. Carmelo is happy to have such a successful woman and we are sure she is happy with Carmelo's career, too. He is being considered as an NBA superstar, even if his team isn't going in the right direction. Carmelo and La La have a son who was born in 2007 and their wedding ceremony was filmed by VH1 in 2010.
It is interesting how this couple started hanging out. Nick's post on Twitter initiated the relationship between them. The Australian hip hop girl didn't need very much to fall in love with Nick. He is a nice guy who is very amusing from the outside and a great player on the court of the Los Angeles Lakers. Numerous paparazzi videos and controversial conversations were going on regarding this couple. But, they are happy and still together, which is the most important for them. Iggy was the biggest breakout artist of 2014 and Nick was the biggest Lakers surprise in the past two years. But, when it comes to marriage, they still haven't decided about it.
Four-time MVP award winner Lebron, is married to his high school sweetheart Savannah since 2013 and they have three kids. Lebron proposed her in a really nice way. He did it on New Years Eve in 2011, surrounded by his teammates to make it more dramatic. Savannah couldn't say no to that. They are both from Cleveland and getting back to this city must've been good for them. Brinson said that she wasn't prepared to live in Miami even if it is one of the most exciting cities in the world. So, now they are home and Lebron can work on the goal to bring his city an NBA Championship.
This couple has been together since 2011 but decided to approach the next step in their relationship in 2014. Axelle is a French journalist and seems to be the perfect choice for Tony. He was happy to celebrate their wedding in the Cowboy Dancehall in San Antonio. They had friends and family with them to make it even more special. Tony's life is at a very high point since he is an NBA Champion and he signed a new deal with the Spurs that costs $43.3 million for three years. It seems that he has the formula for success because they also have a child that makes their family picture even better.
It seems that this is the most adorable couple in the NBA. Dwayne is Miami's basketball superstar and Gabrielle is an actress who progresses without too much effort in Hollywood. This couple started dating a few years before their marriage in 2014. Their special day was a black-and-white themed event. But that is not all. John Legend's singing abilities were a nice way to spark up the ceremony and he put on a magnificent performance to honor them. Wade is a two-time NBA Champion and a philanthropist. He established a foundation that takes care for promoting education, health and social skills for children in at-risk situations.