Fifty Shades of Grey was one of the most anticipated movies in a long time. With the launch of the book in 2011, the shooting of the movie had later begun which released in February 2015. With a mere 4.2 rating (out of 10) for this highly anticipated movie, the direction came as a shock to many around the world. After reading the books, the movie seemed pretty overrated and very evidently didn't keep up to the expectations of critics. On digging deeper to know why the movie was a big flop, we found some news that not too many know about.
Jamie Dornan and Dakota Johnson, the leads of the movie, didn't get along! We sometimes wonder how two people, who didn't get along, end up doing such intimate and personal roles. Media later reported how the stars of the movie couldn't stand each other. Apparently, there were multiple and massive re-shoots for many intimidating scenes. Their attitude towards each other didn't bring out the desired results during sexy and sultry scenes either. A rumor of Jamie Dornan, who supposedly didn't seem very excited about doing the sequel of the movie, is a good enough reason to know why the first one didn't do so well. Well, we understand that the two were having issues, but we'd suggest, it would be best to get new actors with great chemistry who can help do justice to the books!
Remember The Notebook? It was a dream-like movie for many romantic souls. With great reviews and amazing feedback, the storyline of the movie got to the heart of millions around. The stars of the movie, Ryan and Rachel looked impeccably adorable and seemed like the perfect match. With intense romantic scenes in their kitty, the two seemed to do complete justice and helped in leaving The Notebook as one of those evergreen movies.
However, let us tell you that the two didn't get along too well. According to the director, Nick Cassavetes, the two hated each other. He talks about how there was one particular day when they both were really not hitting it off on set. Ryan went up to Nick and asked if a replacement for Rachel's role could be arranged as he was not being able to co-ordinate with her and was getting nothing out of the uncomfortable situation between them! The director, along with the producer and the two stars went into a room to talk it out. Nick said that the two started yelling at each other while trying to sort issues out. Nick walked out for a smoke, shortly after which the two came out and prompted towards continuing to shoot. Nick mentioned that from that point on, it was a smoother sail, although not completely smooth. Ryan realized that he needed to respect McAdam's role and she was glad that she put it out there. So, for all those who watched The Notebook and thought, how they could ever find a partner who they can share similar chemistry with, you now know that it was all for the camera!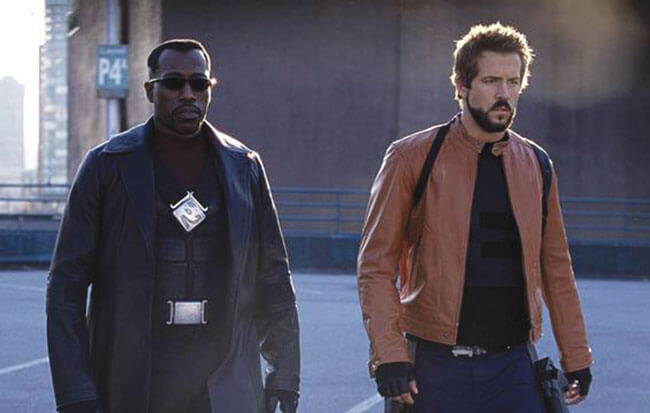 Blade:Trinity was probably one of the classic nerd movies which attracted fiction fans from every nook and corner of the world. With decent reviews and a 5.9 rating on IMDb, we are pretty sure that the movie could have done way better. Being the third part of the hit series, Blade, critics definitely expected way more out of it. Wesley Snipes was known to be an absolute nut to work with. He showed up only for his close-ups and the rest of the movie was shot with his stand-in. Ryan Reynolds, on the other hand, had to shoot his scenes alone or with the stand-in. However, Reynolds wasn't the only one who had to face Snipes's behavior. On one of the days during the shoot, the only other black guy on the set wore one of his own t-shirts that had "garbage" written on it with big, quirky letters. Snipes walked onto the set and accused the director, David Goyer of making the only black guy on set other than him, wearing a humiliating t-shirt! Snipes called him a motherf*cker and tried to strangle the director.
According to another co-star, Patton Oswalt who only had one scene with Wesley said that he would sit in his trailer all day and smoke weed. He mentioned that Snipes would stay in his character all day and would only introduce himself as, Blade! He spoke about another incident where Wesley went up to the director and told him that he should quit as the quality of the movie was depreciating because of him. To that, the director, David responded saying that Wesley should quit as they already have all his headshots and the remainder can be finished with his stand-in. Apparently, that incident shook Wesley up a bit after which he would only communicate with the director through hand-written notes. Well Wesley, we have to say that you are one stubborn actor with a mind of his own, to work with. Ease down a little, right?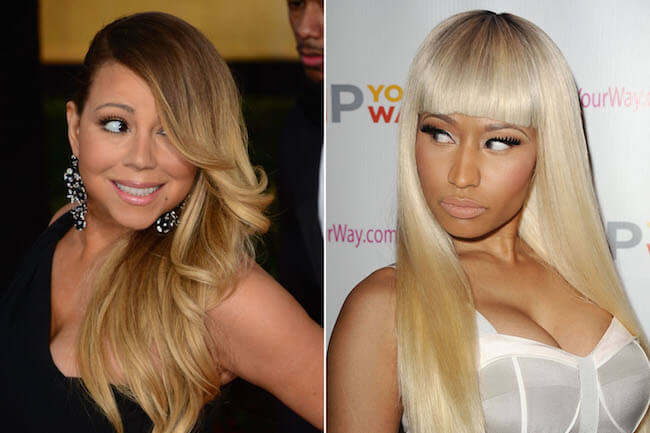 When two female celebrities who are both doing extremely well in their music career come together, what happens? Well, most of us would like to think that they get along and do what they do best, party together. However, in the case of Nicki and Mariah, that didn't seem to be the situation. During the 2013 series of American Idol, the two were co-judges. The discomfort between the two spilled out to the press and was noticeable on and off the show.
During an interview with the radio station, HOT 97, Mariah spoke about her experience on American Idol. She said that she hated it and felt like it was hell going to work every day, with Satan. She didn't specifically take Nicki's name but due to their unfriendly nature towards each other, it was pretty evident. There was a time when a contestant called Kree Harrison was performing on the show. After her performance, Mariah said that she did a good job but wasn't all out there. To this, Nicki said that it was the best performance of that night. Mariah knew Nicki was defying her comment because of the cold vibe that was on between them and promptly replied saying that she disagreed with Nicki's disagreement! Ouch.
They both had few words exchanged about how they felt after which Nicki promptly replied saying, "simmer down, sir." Her addressing Mariah as "sir" did instill a little drive and caused all the media attention. Mariah however did have a few good things to say about the show and that was mainly about the contestants. She said most of them were great and had beautiful voices. Well, we remember the beef these two shared on screen back then. We hope they managed to ease things out. After all, a singer's greatest help would obviously be another, singer.
Bill Murray is known to have tons of fans around the world and there was a time when he was considered as one of the smartest looking actors on the block. Who could have imagined Bill Murray to be the type to humiliate somebody about their acting/work. For a very long time, we were wondering why Bill wasn't in the second movie of Charlie's Angels: Full Throttle. Well, it all became clear when news about Lucy's and Bill's incompatibility came out. It is said that Murray would waste a lot of time telling Liu that she couldn't act. According to one source, Bill had stopped a particular scene and pointed at Cameron Diaz and Drew Barrymore saying that he understood why they both are on set, acting and that they have talent. He then moved his finger towards Lucy Liu and said, "but what the hell are you doing here?" This was probably the point when Lucy got aggravated and went straight at Bill trying to wildly throw punches at him. The actors had to be separated to the corners of the room while they continued to swear at each other. Now, we don't know how far this is true but the fact that Bill wasn't in the second movie was proof enough for us to know. Now, we understand that you are a great actor Bill, but putting someone else down is the worst idea everywhere.
Bill Murray and Harold Ramis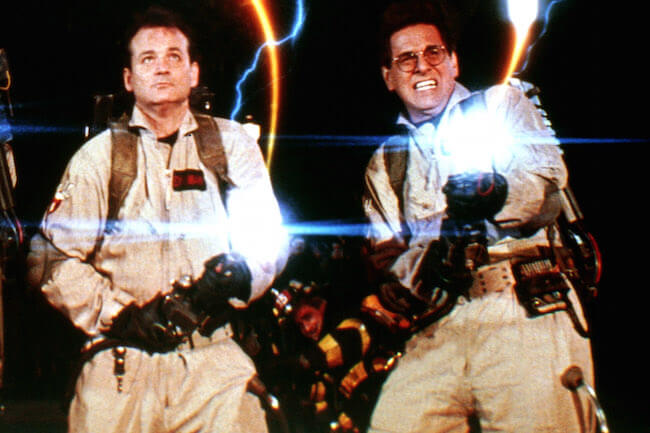 Oh hey look! It's Bill again. Well, Bill surely seems like one of those actors who never got along with most of his co-workers, right? On the set of Groundhog Day, according to Murray, he was arguing with Harold Ramis about how the film should be philosophical rather than just being straight up comedy. While on the other hand, Ramis said that the reason why Bill was being so difficult is due to his personal and emotional baggage which he seemed to be getting to work. Let us tell you, the two were very tight and close friends. However, we are glad that the two eventually made up again before Ramis passed away in 2014.
Most of us have watched at least a few episodes of Desperate Housewives, and enjoyed it too. There is no denying that the cast of the show was excellent and the dramatic storyline, even better. With unrealistic ups and downs as well as impossible family issues, Desperate Housewives showcased everything and was considered as a very melodramatic TV show. The actresses showed great compatibility and friendship. Sadly, this wasn't the case off-screen. Teri Hatcher and Marcia Cross who acted as best friends on screen were anything, but that off-screen. Although they never really argued, but they never acknowledged each others presence either. Eva Longoria said that Hatcher seemed and behaved like a "loner" on set. During a Vanity Fair photo shoot for the show, it is said that Cross was very furious of the fact that Hatcher was out in the front and center of the shoot. To make her dislike towards Hatcher even more evident, Cross left her name off the "goodbye gifts" that she got for the crew, towards the end of the show. The irony here is that both acted very much like their characters on screen.
As most of you may know, Charlie Sheen never came across as an easy person to deal with, at work. Many of his co-workers from "Two and a Half Men" and "Anger Management," had very little good things to say about him. His drug and anger issues sure got him fired from the sets of Two and a Half Men, leaving too many controversies about the topic, back then. Charlie was then on his second show, "Anger Management". The show started off pretty well and received good reviews in the beginning of its life cycle. Selma Blair, his co-star had supposedly commented on Charlie's work ethic in a negative way which aggravated Sheen's anger towards her. Sheen had Blair fired from Anger Management and to top it off, it was Sheen himself who sent her a text calling her a cu** and telling her that she was fired. Ouch!
After doing one of the original Batman movies and later being tagged as "not the worst Batman movie in history," news of their incompatible nature came out later. Tommy Lee Jones had such an intense beef with Jim Carrey and hated him to such an extent that he wouldn't even sit beside him during lunch. Considering that Jim Carrey is a brilliant actor and can do unconventional roles very well, he tried his best to steal the spotlight from the native Texan, Tommy, every time he got a chance to. This attitude triggered more anger and caused a tornado of corny behavior to descend upon the sets of the movie. Well, the movie didn't do as well as its expectations were and we at least know why!