Ever since, the first edition of the IPL was rolled out in 2008 by then IPL commissioner Lalit Modi, it has become an explosive cocktail of high adrenaline action and glamor. Often, the beautiful and stylish celebrities are seen cheering their favorite players and team from the executive box. In the early editions of the tournament, there were controversial after-match parties that added oomph and glamour to the tournament. But, they were banned, couple of seasons ago. However, the presence of countless sexy and hot WAGs on the sidelines has ensured that there is no shortage of star quality and sex appeal. Here, are some of the hottest and sexiest WAGs, who have dazzled spectators in this year's edition of twenty overs tournament.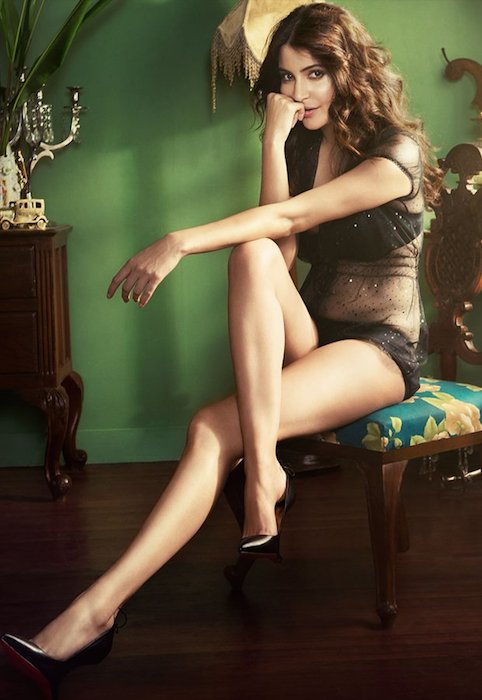 We will start our list with one of the most well-known WAGs – Anushka Sharma. Anushka is one of the most popular young Indian actresses and has host of commercial hit movies such as 'Rab Ne Bana Di Jodi,' 'Band Baaja Baaraat,' and 'Jab Tak Hai Jaan.' Also, she was part of 'PK,' which is the highest-grossing Indian film of all time. Anushka received even more coverage than the entire cricket team itself from some national news channels after India's World Cup semi-final humiliation against Australia. The leggy actress is often seen cheering her boyfriend Virat Kohli. She has been a steady and constant presence in Royal Challenger Bangalore's home and away matches. And, we are eager to see her play role of an aspiring jazz singer in Anurag Kashyap's historical drama 'Bombay Velvet.'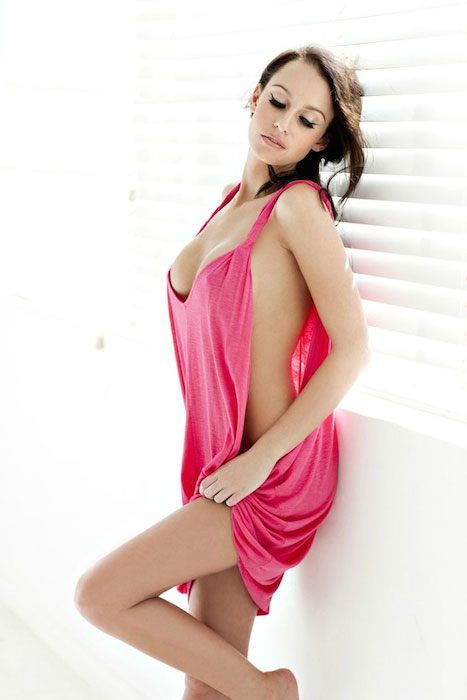 Dale Steyn, the tear away fast bowler seems to have found success off the field as well. His girlfriend Jeanne Kietzmann is one hot model, who has made several glamorous appearances on the covers of magazines including her smoldering appearance in the South African edition of FHM. She became popular for her supporting role in BBC science fiction series named 'Outcasts.' Her other major acting exploits includes appearing in 'League of Glory' in 2010 and 'Muse' in 2015. She is fond of ballet, painting, road running, mountain biking, and hiking. Just a kind of girl you expect Steyn to date. By the way, the couple has been in relationship since 2007, when Jeanne was approached by Dale while working in a restaurant.
Steve Smith proved to be an absolute nuisance for the Indian cricket team during the tour of Australia. He was the prized wicket for the Indian bowlers as he plundered astonishing 769 runs in four matches and scored a century in every match. And, behind his immense success is his beautiful and cricket fanatic girlfriend Dani Willis. She is often seen behind the bowling machine, when Steve is working on his batting and she often scolds him for going for wrong shots. Now, that is how you can learn to bat better. Dani is a former competitive swimmer and water polo player. And, when she isn't berating and praising her boyfriend for his performances, she is busy studying for a law degree.
Jessica Bratich-Johnson, who is a black belt in karate is a perfect match for Mitchell Johnson, who is well known for making batsmen break into cold sweat on prospect of facing his fearsome bowling. Doubtful, of what I wrote now, just ask the English batsmen, who were decimated during the Ashes by his quick and intimidating bowling. Anyways, back to the topic. Jessica was a successful athlete before she turned to her new passion, fashion designing. She has won a bronze medal at the 2006 Karate World Championships in Finland. Since making debut at the Perth fashion week, her Metal Works brand has become commercially successful. The couple has a daughter together named Rubika Ann, who was born in December 2012.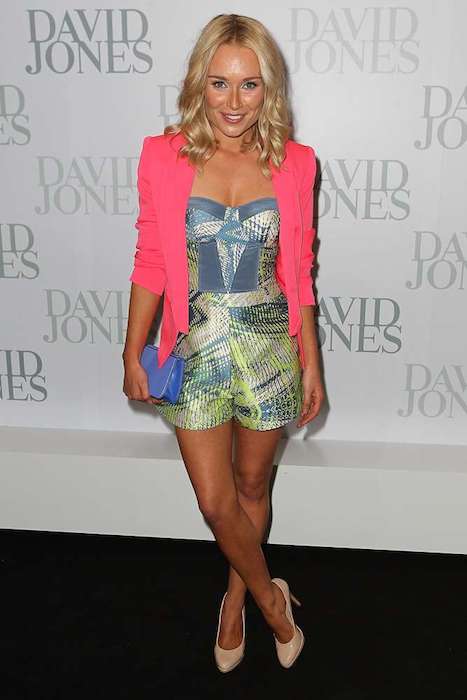 Shane Watson and his sports presenter wife Lee Furlong have been together since 2006. The couple, last month, announced that they were all set to welcome a new member into their family of three, which includes their son Will, who was born in March 2013. The child would be a perfect wedding anniversary present for the couple that got married in May 2010 in a low-key ceremony on NSW's Central Coast. In a recent interview, the Fox Sports presenter had opened up about motherhood; she talked about the confidence and happiness, their son has brought in her life. We wish that they would have more happiness this year and who knows the way Rajasthan Royals are playing, captain Watson might get something more to celebrate about.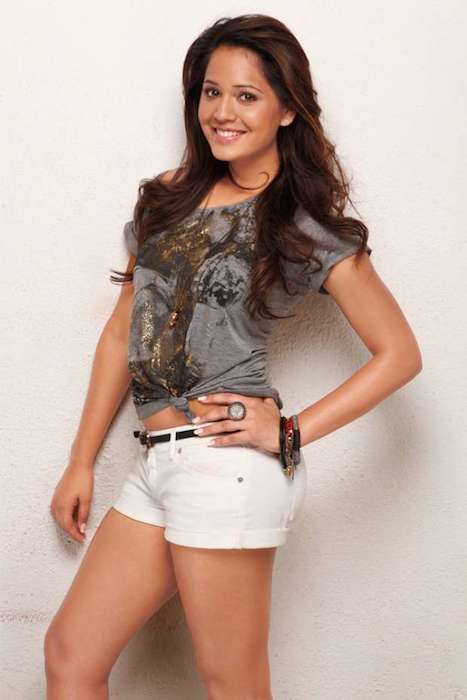 Dipika Pallikal is an accomplished squash player and, despite, being just 23 years old, she has won two of the most prestigious awards – Arjuna Award and Padma Shri. Also, she is the first Indian woman to break into the top 10 in the World Squash Association rankings. In 20th Commonwealth Games, she won the gold medal along with Joshna Chinappa in the squash women's doubles event, which was India's first-ever Commonwealth Games medal in the sport. Dipika is engaged to IPL 2015's second most expensive player, Dinesh Karthik.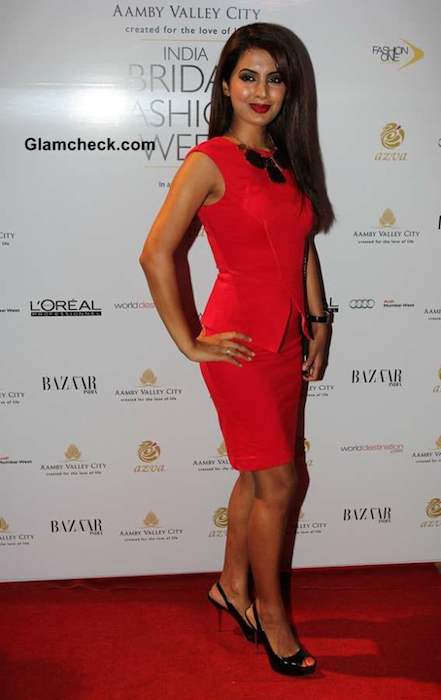 The rumors of Harbhajan Singh and Geeta Basra's alleged relationship has been there in the newspapers since Virat Kohli was playing for under-19 team. Now, he has become test captain of the senior team, but the rumors about Harbhajan's love life still won't go away. As of last month, it was reported that the couple is finally going to make their relationship official and will get married in mid-March. May is about to start and we are still waiting for the good news. We think Harbhajan should definitely marry beautiful actress and save us from the useless and incessant tabloid gossip.
Mrs. Shikhar Dhawan is one of the hottest and most beautiful WAGs. The Melbourne based Ayesha is half British and half Bengali, and a former amateur boxer. The couple got acquainted on a social networking site, it was Harbhajan Singh, who being a common friend introduced them to each other. The couple started dating soon after and got engaged in 2009. However, Ayesha had to wait for three years to get married as Shikhar wanted to earn a place in the national team before getting married. The couple got married on October 30th, 2012 in an intimate ceremony.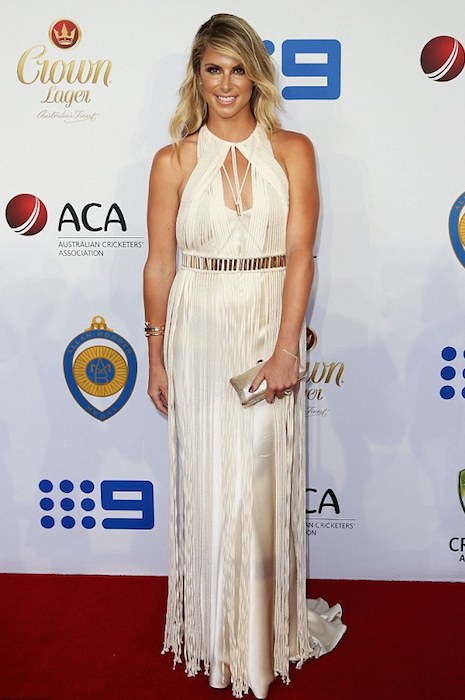 David Warner is one of the most destructive batsmen in the World cricket. The Sunrisers Hyderabad captain has been, in particularly, smashing form in the tournament and has led his team from the front. No doubt, having such a beautiful woman as Candice Falzon, cheering from the sidelines does certainly help. Candice is an Australian professional ironwoman, surf life saver and model, and was in live-in-relationship with Warner before getting married in April 2015. The couple's first child was born on September 11, 2014.
During the World Cup, there was a joke going around that Stuart Binny's wife Mayanti Langer had more appearances on the ground than her husband during the tournament. Mayanti is a popular sports presenter and is currently covering IPL for Set Max channel in India. She is also an avid football fan and has covered football tournaments for the Star Sports. She was ESPN host for the 2010 FIFA World Cup which included pre-match, half-match and post-match analysis. Stuart has often credited his wife for his recent success. He claims that her strict discipline helped him to lose weight and develop much-needed fitness.