Jeff Bezos Quick Info
Height
5 ft 7.5 in
Weight
70 kg
Date of Birth
January 12, 1964
Zodiac Sign
Capricorn
Eye Color
Hazel
Jeff Bezos is an American internet entrepreneur, industrialist, media proprietor, and investor who founded the multi-national technology company Amazon and has also served as its CEO. Amazon has been described as "one of the most influential economic and cultural forces in the world" as well as the world's most valuable brand as it focuses on e-commerce, cloud computing, digital streaming, and artificial intelligence. It has become the world's largest online sales company, the largest Internet company by revenue, and the world's largest provider of virtual assistants and cloud infrastructure services through its Amazon Web Services branch. Jeff started the company from his garage and also founded the aerospace manufacturer and sub-orbital spaceflight services company named Blue Origin in 2000. Credited as the "richest man in modern history", he achieved the feat of becoming the first centibillionaire on the Forbes wealth index.
Born Name
Jeffrey Preston Jorgensen
Nick Name
Jeff
Sun Sign
Capricorn
Born Place
Albuquerque, New Mexico, United States
Residence
He has owned residential properties in five different locations –
Two homes in Medina, Washington
A former textile museum turned residence in Kalorama, North West Washington, D.C. worth $23 million
Two adjoining homes in Beverly Hills, California
A 30,000-acre ranch house in Cotulla, Texas
Three condos in Century building at 25 Central Park West in Manhattan, NYC
Nationality
Education
Jeff studied for 2 years at River Oaks Elementary School in Houston, Texas. He continued his high school education at Miami Palmetto High School after his parents relocated to Florida.
While still in school, he was selected to be a part of the Student Science Training Program at the University of Florida and received the Silver Knight Award. He was the high school valedictorian during the graduation ceremony in 1982 and also a National Merit Scholar.
In 1986, Jeff graduated from Princeton University with a Bachelor's degree in Electrical Engineering and Computer Science with a GPA score of 4.2. At Princeton, Jeff earned the exclusive membership of Phi Beta Kappa, the oldest honor society that promotes liberal arts and sciences. He was also elected to Tau Beta Pi, the oldest engineering honor society. Additionally, he served as the President of the Princeton branch of Students for the Exploration and Development of Space (SEDS).
Upon graduating, Jeff was offered employment with Intel, Bell Labs, and Anderson Consulting. He turned down all those jobs to work with a start-up company called Fitel and was their 11th employee.
Occupation
Technology Entrepreneur, Investor / Venture Capitalist, Philanthropist
Family
Father – Ted John Jorgensen (Road Runner Bike Shop Owner; Expired March 2015)
Mother – Jacklyn Bezos née Gise aka Jackie (President, Bezos Family Foundation)
Siblings – Mark Bezos (5 Years Younger Half-Brother, Brand Experience Advisor), Christina Bezos Poore (6 Years Younger Half-Sister, Director at Bezos Family Foundation)
Others – Miguel Bezos aka Mike (Step-Father) (Former Employee with Exxon Mobil Petroleum Engineer & Mathematician, now Co-Founder & Vice-President at Bezos Family Foundation), Lisa Bezos (Sister-in-law) (Self Employed ADHD Coach & Consultant), Stephen aka Steve Poore (Brother-in-law), Theodore John "Ted" Jorgensen (Paternal Grandfather), Dolores Pollock (Paternal Grandmother), Lawrence Preston Gise (Maternal Grandfather) (Former Regional Director of US Atomic Energy Commission), Mattie Louise Gise née Strait (Maternal Grandmother), George Harvey Strait (Distant Cousin through maternal grandmother) (Famous Country Singer, also known as 'King of Country)
Net Worth
Jeff Bezos's net worth was $115 billion as per CelebrityNetWorth.com in December 2022. He was the world's 4th richest person at that time.
Build
Muscular
Height
5 ft 7.5 in or 171.5 cm
Weight
70 kg or 154 lbs
Girlfriend / Spouse
Jeff Bezos has dated –
Ursula Werner aka Uschi (1981–1982) – Ursula was Jeff's high school girlfriend and a fellow bright student who collaborated with him to organize a ten-day summer course for 10-year-olds right after their graduation in 1982. Jeff named and advertised the course as the DREAM Institute, short for, Directed Reasoning Methods. In Jeff's bedroom, Ursula assisted his students in reading and studying classic books like David Copperfield, Gulliver's Travels, and The Lord of the Rings, taught practical skills like operating a camera, and discussed serious issues such as black holes in outer space, electric currents, and nuclear arms limitation talks. The couple broke up after Ursula enrolled in Duke University, North Carolina and Jeff went to study at Princeton University, New Jersey to become a theoretical physicist.
Mackenzie S. Bezos née Tuttle (1992–2019) – Mackenzie was hired as a research associate at D.E Shaw, a hedge fund firm based in New York City right after she finished her college education with the highest honors from Princeton University in 1992. Jeff was serving as the Vice-President of that firm and his office was right next to hers. He was also the first person from his firm to interview her. One day, Mackenzie asked Jeff out for lunch. Three months later, they were engaged. 6 months later, they were married. From 1994 to 1999 when Jeff was investing all his time and energy during the early stages of getting Amazon up and running, the couple lived in a one-bedroom rented apartment in Seattle. Mackenzie worked as an accountant at Amazon and was one of the company's earliest employees. Thereafter, Mackenzie became an award-winning novelist. She formerly studied under Pulitzer winner, Toni Morrison. Her first novel, The Testing of Luther Albright (2005) took 10 years to complete for which she won the American Book Award and Outstanding Literary Award in 2006. Mackenzie is also the founder of an anti-bullying organization called the Bystander Revolution. Together, the couple has 3 sons and 1 daughter (adopted from China). Jeff Bezos and Mackenzie revealed on Twitter in January 2019 that they were planning to divorce. They got divorced in July 2019.
Lauren Sanchez (2018-Present) – Helicopter pilot and former Fox's anchor, Lauren Sanchez started dating Jeff in the autumn of 2018 after Lauren had separated from her then-husband. Lauren and Jeff had met through Lauren's husband who has represented various celebrities such as Hugh Jackman, Matt Damon, Kevin Costner, and others. In May 2023, it was reported that the couple had gotten engaged.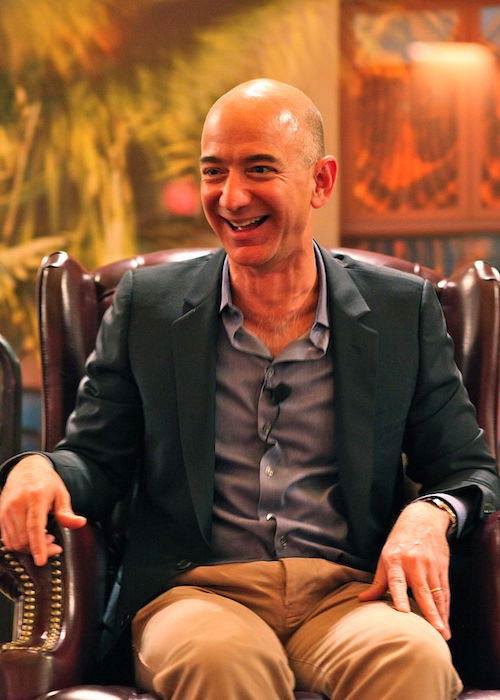 Race / Ethnicity
White
His biological father was from Chicago, Illinois and has the last name of Scandinavian origin while all his maternal relatives were early settlers in Texas.
He has Danish, Irish, German, English, Swedish, Northern Irish, Scottish, Welsh, and Scots-Irish/Northern Irish ancestry.
Hair Color
Dark Brown (Lost almost all his hair before middle age)
Eye Color
Hazel
Sexual Orientation
Straight
Distinctive Features
Cleft Chin
Asymmetrical eyes
Has a signature style of laughing, which was also one of his features that his wife was attracted to when she started working in the space adjoining his office in 1992.
Brand Endorsements
Unofficially performs brand ambassador duties for Amazon, his first company.
Religion
His religious beliefs are not confirmed. However, he was possibly raised in a Christian family.
Best Known For
Being the founder, chairman, and chief executive officer of Amazon – the company is globally recognized as the world's largest online shopping retailer.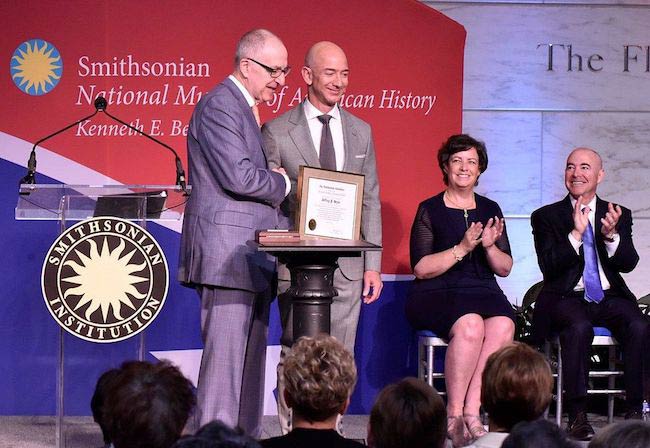 First Film
Jeff was cast as a Starfleet Official in Star Trek: Beyond (2016) which is Jeff's first theatrical film appearance.
First TV Show
Jeff appeared for an interview on the news talk show Charlie Rose in April 1999.
Personal Trainer
By his own confession, Jeff revealed that his natural physical disposition was always to look as thin as a rail and up till the 1990s, he usually ate whatever tasted good to him.
In 2013, journalist Brad Stone, the author of The Everything Store: Jeff Bezos and the age of Amazon (2013) shared that Jeff started allotting daily dedicated hours towards building strength and conditioning in the gym in 2010 because he was training his body to tour outer space someday.
It was not until in July 2017 when a picture of Jeff at the Sun Valley invite-only conference in Idaho went viral that people realized how muscular he had become that sparked comparison to action movie stars such as Vin Diesel.
Jeff is very particular about getting 8 hours of sleep every night and does not believe in the use of alarm clocks. He prefers to wake up naturally at the end of his sleep cycle between 7-8 am.
He starts his day with a healthy breakfast, never schedules meetings in the morning, or uses his cell phone at the dining table.
Jeff also has an inclination towards unusual exotic foods and likes to have meals from food trucks.
Jeff Bezos Favorite Things
Author – Cormac McCarthy
Novel – Remains of the Day by Kazuo Ishiguro
Movie – Star Trek (Fond of any game, character, or trivia related to it)
Historical Personalities – Walt Disney, Thomas Edison
Books –

Built to Last: Successful Habits of Visionary Companies by Jim Collins
Creation: Life and How to Make It by Steve Grand
Good to Great: Why Some Companies Make the Leap … and Others Don't by Jim Collins
The Innovator's Dilemma by Clayton Christensen
Sam Walton: Made in America by Sam Walton
Lean Thinking: Banish Waste and Create Wealth in Your Corporation by James Womack and Daniel Jones
Memos from the Chairman by Alan Greenberg
The Mythical Man-Month by Frederick P Brooks, Jr.
The Goal: A Process of Ongoing Improvements by Eliyahu Goldratt
Data-Driven Marketing: The 15 Metrics Everyone in Marketing Should Know by Mark Jeffery
The Black Swan by Nassim Taleb
Source – Vogue, Entrepreneur, CNBC.com, Business Insider, Google Books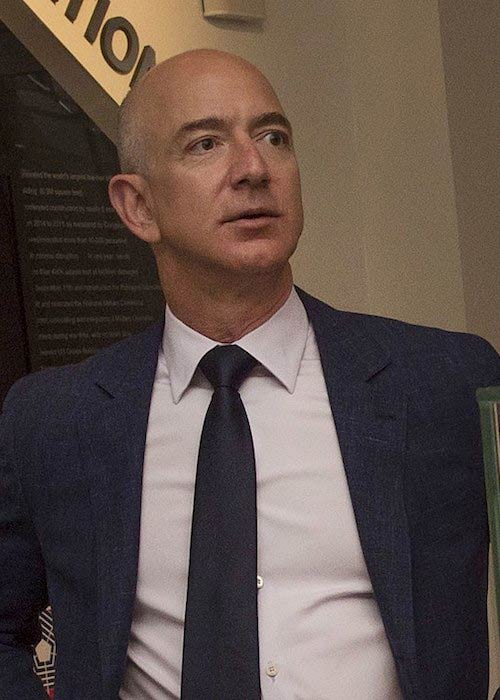 Jeff Bezos Facts
His mother, Jacklyn had him at the age of 17 when she was still a high school student. His father Ted was a unicyclist performer at that time.
Jeff's parents separated one year after their marriage because his biological father was an alcoholic that made him an inattentive father and husband.
Jeff's stepfather, a Cuban immigrant, adopted him when he was 4 years old and hence gave him his last name, Bezos.
Jeff found out he was adopted at the age of 10 but never felt the urge to track his biological father thereafter.
Ted Jorgensen had no idea about Jeff's whereabouts or identity until author Brad Stone tracked him down in Glendale, Arizona and told him about his son's identity in 2012 who is also his only biological child.
Everybody was also surprised to find out that Jeff inherited his distinctive laughter from his biological father even though they had never spent time together in their entire life.
At the age of 3, Jeff wanted to sleep on a regular bed. When his mother refused to claim he was too young to move out of his crib, he tried to take the bars of his crib apart using a screwdriver.
During his teens, he showed interest in innovation and invention. He made a solar cooker out of an umbrella, a hovercraft using an old vacuum cleaner, and rigged a buzzer to his bedroom so he would know the moment his brother and sister would invade his personal space.
His maternal grandfather whom he called Pops was the only other male role model in his life after his stepfather.
From the age of 4 to 16, Jeff spent every summer at his maternal grandfather's ranch where he single-handedly did a lot of hard labor and repaired heavy machinery under his grandfather's supervision. Without the instructions or repair kit to fix the equipment, Jeff learned that every problem is merely a challenge with a solution.
He took up his first job during his summer holidays in high school which was flipping hamburgers and cooking French fries in a McDonald's restaurant with his high school girlfriend.
He was not even the least bit inclined towards sports but was still made the defensive captain of his city's youth football team because he was the only person who could remember what every team member was supposed to do on every play.
Jeff enrolled in Princeton because the university had the best Physics program in the country. When he found out three of his classmates were much better than him at that subject, he changed his major to computer science and electrical engineering because he did not want to be a mediocre Physicist.
After quitting Fitel in 1988, Jeff joined Bankers Trust as a product manager and worked so hard that at the age of 26, in 1990, he became the company's youngest vice-president.
Thereafter, he joined E Shaw where he was designated as the company's youngest vice-president again at the age of 28 in 1992.
He was the senior vice-president in 1994 when he finally decided to quit his job because nobody at E Shaw believed in his business idea of starting an online company.
While casually browsing through the Internet in 1994, Jeff discovered that Internet usage was increasing by 2300 percent every year which made him look up the business model of mail-order companies.
He decided upon books as the first product to sell online because no store or mail-order company could provide the complete list of all the names of the books available for sale. But, this information could easily be stored online.
According to The Land Report magazine 2017 edition, Jeff Bezos is the 28th largest landowner in the USA.
Jeff nearly named his business Cadabra.com but dismissed it when his lawyer misheard it. He named it Amazon to suggest the largeness of scale and place it at the beginning of business website listings which were often named in alphabetical order.
Jeff also liked the named Relentless for his company hence relentless.com will also take an individual to the Amazon website.
He is not interested in music at all and let Steve Jobs hire his music editor, Keith Moerer that quickly led to the creation of the iPod. In response, Amazon's music business suffered a massive hit. Hence, Jeff quickly created the Kindle to monopolize the market of digital books.
He was named Time Magazine's Person of the Year in 1999.
In 2003, Bezos almost died in a helicopter crash in the Texas boondocks while investigating a site for a test-launch facility for Blue Origin, his aerospace manufacturer and space flight company.
Helping people travel and live in space was one of Jeff's childhood dreams that he also mentioned in his valedictorian speech.
In 2008, Jeff was featured in an episode of The Simpsons alongside Mark Cuban hanging out with the fictional billionaire, Burns.
In 2011, he donated $15 million to Princeton University for the establishment of a Neuroscience center.
In August 2013, he entered a new domain by purchasing The Washington Post for $250 million.
Journalist Brad Stone's book on Jeff Bezos published in 2013 portrayed him as an aggressive, hyper-competitive, and demanding leader due to which Jeff's wife, Mackenzie gave the book a 1-star rating on Amazon along with a 922-word negative review.
He was one of the earliest shareholders of Google and invested $250,000 in the company in 1998.
Through his venture capital firm, Bezos Expeditions, Jeff holds a stake in several companies some of which are Airbnb, Business Insider, Twitter, and Uber.
Jeff became a millionaire at the age of 33. He surpassed Bill Gates to become the richest man in the world in October 2017 and his net worth crossed $100 billion for the first time in November 2017.
In 2018, he was confirmed to be the first centi-billionaire in the world.
Jeff's top priority for people in his life is that they should be resourceful. He found that trait in his wife and let his kids play with knives and power tools way before the age of 10 so they could develop the same kind of self-reliance.
In January 2018, he made a $33 million donation to TheDream.US which is a college scholarship fund for illegal immigrants who were brought to the United States when they were minors.
Through Bezos Expeditions, Jeff provided $42 million to build a 10,000-year clock inside a mountain in West Texas on the land owned by him. The creation is meant to encourage and symbolize long-term thinking.
Jeff Bezos famously sums up his life philosophy as "Work hard, have fun, make History".
In 2018, analysts predicted Amazon would beat Apple to become the world's first trillion-dollar company by 2022 or sooner.
He is the first person ever in history (as per Forbes) whose net worth has exceeded $200 billion.
He pledged $10 billion to combat climate change through the Bezos Earth Fund in February 2020 and later donated $100M each to organizations like Environmental Defense Fund, Natural Resources Defense Council, The Nature Conservancy, World Resources Institute, and World Wildlife Fund.
He donated $100 million to food banks through Feeding America early in the COVID-19 pandemic in April 2020.
In early January 2021, he was overtaken by Tesla's Elon Musk to be the richest person in the world.
In February 2021, it was revealed that Jeff had decided to step down as the CEO of Amazon in the 3rd quarter of 2021 and would be taking the role of executive chair. It was also announced that Andy Jassy would become Amazon's CEO.
On February 16, 2021, Jeff once again became the richest person on the planet surpassing Elon Musk on the Bloomberg Billionaires Index with a net worth of $191.2 billion (of Jeff). He had become $955 million richer than Elon Musk.
Until May 12, 2021, Jeff had sold worth $6.7 billion of Amazon shares and after taxation, he took $5.1 billion with him. At that time, he was still holding 10% of Amazon shares with a net worth of $188 billion.
He has a robotic dog that was created by the engineering company Boston Dynamics in 2016.
Bezos owns one of the world's fastest private jets named the Gulfstream G-650ER which is worth $65 million.
In May 2021, it was reported Jeff Bezos was buying a superyacht for over $500 million. 127 meters long superyacht had its own support yacht, in-deck swimming pool, cinema, and a helipad.
In June 2021, it came to public knowledge that Jeff Bezos did not pay any federal income tax in 2007 and again in 2011.
In June 2021, Jeff's rocket company, Blue Origin had announced that in an online auction, a mystery bidder who won a seat (alongside Jeff Bezos and his brother) in the rocket paid $28 million. In July 2021, Jeff successfully went to space alongside his brother on the Blue Origin space flight from Launch Site One in Texas. It was later revealed that the flight reportedly lasted 11 minutes.
In August 2021, it was publicly revealed that Jeff Bezos had installed an ice cream machine at home. It was a CVTeeny soft serve machine from CVT Soft Serve.
In September 2021, Jeff's organization, Bezos Earth Fund pledged to donate $1 billion to conservation projects to combat climate change.
In 2021, Jeff had invested through his family office in an Indonesian e-commerce startup Ula which was founded in 2020.
In early 2022, it was reported that Jeff would destroy the 'De Hef' Dutch bridge which was built in 1927 so that his newly built $500 million, 127-meter-long superyacht could pass.
In April 2022, in a single day, he lost around $20 billion due to poor quarterly results of Amazon. From January 1, 2022, until that time, he had already lost $44 billion in net worth.
In the first half of 2022 (until June 2022 end), Jeff Bezos's wealth was down by $62.7 billion.
In November 2022, Jeff's former housekeeper, Mercedes Wedaa filed a lawsuit against him, claiming that she worked long hours and faced racial discrimination while working for him.
In November 2022, Bezos honored the country singer Dolly Parton with the Courage and Civility award and gave her $100 million so that she could donate it to her charity of choice.
In November 2022, Jeff Bezos who was the 4th richest person in the world at that time with $124 billion wealth, revealed that he would be donating the majority of his fortune in his lifetime.
On January 24, 2023, as per Bloomberg Billionaires Index, Jeff climbed to 3rd position from 4th with $121 billion of wealth. Gautam Adani of Adani Enterprises had slipped to 4th position.
In February 2023, Jeff received France's highest honor, the Legion of Honor, from President Emmanuel Macron.
In February 2023, Bezos was looking to buy the American football team Washington Commanders. For that, he even hired an investment firm so that he could finalize a bid in the auction.
In June 2023, Jeff and Leonardo DiCaprio invested $200 million in the "Protect Our Planet" challenge. The challenge was aimed to "support the expansion and management of Brazil's protected areas and Indigenous territories".
In August 2023, Jeff purchased a new house in Indian Creek, Florida, for $68 million (₹560 crores).
In October 2023, he bought another house (next to the previous one purchased in August) in Indian Creek, Florida, for $79 million (₹660 crores). It is a 19,064-square-foot property which is a 7-bedroom mansion.
To find out more about the entire range of Jeff's business interests, visit bezosexpeditions.com.
Featured Image by U.S. Department of Defense photo by Senior Master Sgt. Adrian Cadiz / Flickr / CC BY 2.0