The motherhood is one of the most beautiful parts of women's lives. The decision to bring a life into this world even after knowing the pain of the delivery and the struggles of being a mother epitomizes the deepest, truest and most selfless form of love. It is the greatest sacrifice, one human can make for another. A woman carries the burden and responsibility of nurturing two lives for nine months. She makes compromises, makes changes to her lifestyle and even has to step back from the social life, only to ensure that the life she is going to bring in the world has the best shot at being safe and healthy in every way.
For a mother, every pain, health risk, and sacrifice that is associated with giving birth is a minor nuisance, a minor distraction in comparison to the happiness and joy, she feels on holding her child for the first time. In this article, we will take a look at some of the beautiful celebrity mothers, who gave birth in 2014.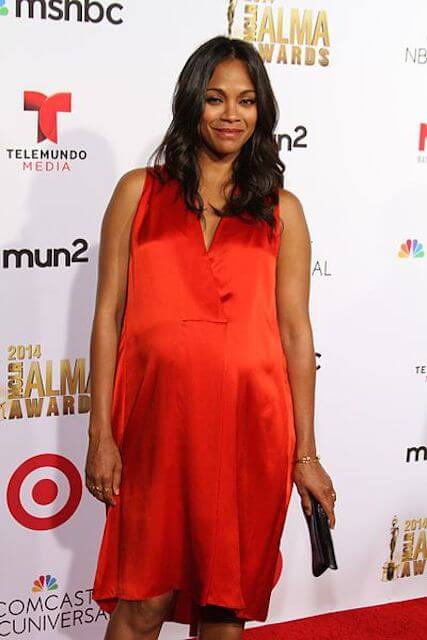 Zoe Saldana is one of the most beautiful South American origin actresses in Hollywood. She has gained a significant following for her exotic beauty, stunning figure and one of the most enchanting smiles. She had an eventful year as she gave birth to twins and starred as Gamora in commercial hit superhero movie 'Guardians of the Galaxy.' Saldana confirmed the news that she and her Italian beau Marco Perego, whom she began dating in March 2013 and married in a secret ceremony in London in June 2013, were expecting in August while undertaking the famous ALS Ice Bucket Challenge. And, almost three months later, Avatar actress on November 27th gave birth to twin boys, Cy Aridio and Bowie Ezio Perego-Saldana in Los Angeles.
Erin McNaught is a popular Australian model, actress, presenter and television personality. She is well known for representing Australia at the Miss Universe 2006 edition, though she didn't manage to progress beyond the initial stages. After, her appearance at the global stage, she bagged several high profile modeling assignments and appeared in soap opera 'Neighbours' in 2007. Since then, she has gone on to appear as a guest judge on 'Australia's Next Top Model' and has appeared naked on the cover of the June 2012 issue of Maxim Australia.
Erin and musician Example welcomed their son, Evander Maxwell Gleave on December 21, 2014, in Australia. They had started dating after meeting in 2011 during an MTV interview, which was conducted by Erin and got married on May 18, 2013.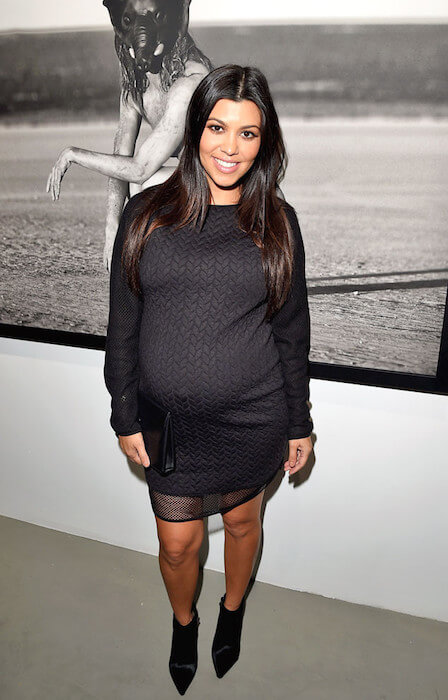 The oldest of the Kardashian sisters is also known for being the most grounded and cool-headed one. Of course, like rest of her family, she owes her fame and success to the infamous leaked intimate tape of her younger sister Kim Kardashian. However, over the years, Kourtney has worked hard to make the most of the popularity gained from reality television series 'Keeping Up with the Kardashians.' She has launched several clothing lines, fragrances and a book 'Kardashian Konfidential.' Last year, she added a new cute member to her family of four, which apart from her long-term partner, Scott Disick includes a son, Mason Dash Disick, born on December 14, 2009, and a daughter Penelope Scotland Disick, born on July 8, 2012. She gave birth to her third child, a son, Reign Aston Disick on December 14, 2014.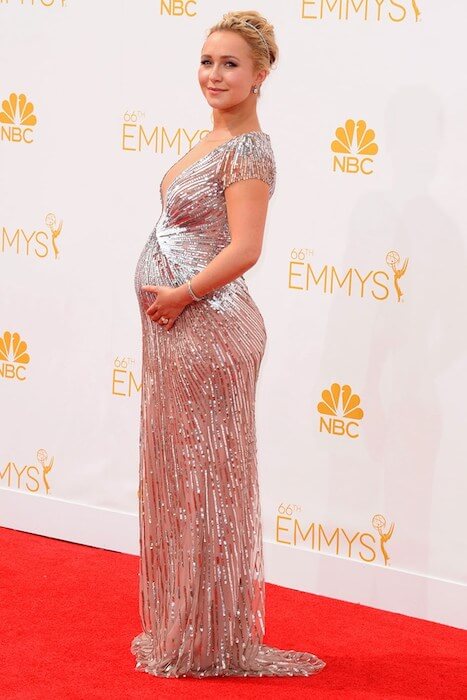 Though, Hayden Panettiere gained fame and critical acclaim via the ABC musical drama series 'Nashville,' but her big break came, when she played the role of Coach Yoast's daughter, Sheryl, in the 2000 sports drama 'Remember the Titans.' And, you would be amazed to know that her TV debut came at the age of 11 months when she starred in an advertisement for a Playskool toy train. Multi-talented Hayden is also an amazing singer, she has garnered a Grammy Award nomination for 'A Bug's Life.'
On December 9, 2014, Hayden gave birth to a daughter, Kaya Evdokia Klitschko. Kaya's father is heavyweight boxing world champion Wladimir Klitschko, whom Hayden started dating in 2009 after meeting through a mutual friend. Hayden has gone on record to say that motherhood has re-prioritized her life and, she feels fabulous and extremely happy.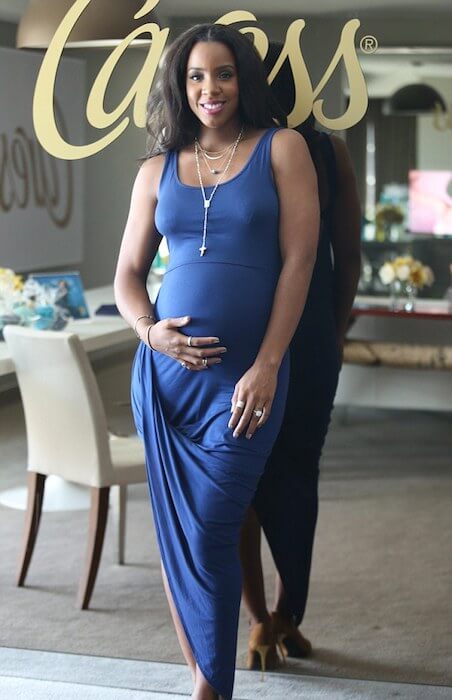 Kelly Rowland became the poster girl for prenatal fitness when she posed for sultry and stunning photo shoot. In the pictures, which were published in the Elle magazine, Kelly stripped off her clothes and displayed her incredible pregnancy body. The 34 year old singer attributed her body to the prenatal workout, which she did for an easy and speedy delivery. Kelly revealed that exercising really helped her cope with the stress and demands of the motherhood. Kelly and her husband Tim Weatherspoon, who prior to their relationship was also her manager, welcomed a son named Titan Jewell Weatherspoon on November 4, 2014. In a recent interview, Kelly revealed that being a mother makes her feel sexier, just like a rock star.
Eva Mendes and her longtime boyfriend did a remarkable job by keeping Miami born actress' pregnancy a secret, until she reached the seventh month. Since, they are constantly under the media glare, the feat of keeping the news under the wraps for so long certainly deserves praise. The 'Hitch' actress, during Ellen DeGeneres's show, revealed that the decision to keep the pregnancy news private was taken to ensure, she had a nice calm pregnancy, which she claims she did. So, kudos to them. However, the motherhood hasn't been that calm affair for Eva as her daughter Esmeralda, born on September 12, as she keeps her on her toes. She did attribute her beautiful post pregnancy body to pregnancy though.
The former child star surprised the world in 2012 by revealing that she was dating camera technician James Heerdegen, whom she had met on the set of her short-lived TV drama 'Pan Am' in 2011. The couple got married on October 26, 2013 in an intimate ceremony at 'Harold Pratt House and Peterson Hall' in New York City. By last year May, it was reported that Ricci was pregnant with couple's first child. The couple has kept their relationship firmly private and the news of actress' pregnancy was also kept secret until media spotted her visible bump. Similarly, the couple hasn't revealed the name and date of birth of their son, who according to popular publication US weekly was born in August 2014.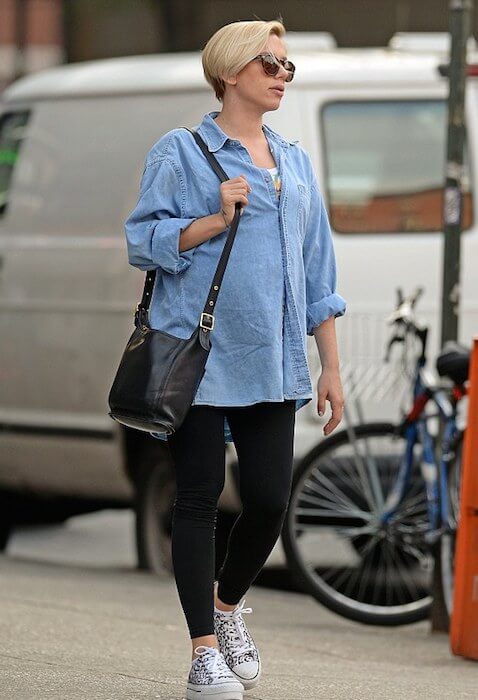 Scarlett Johansson looked absolutely stunning and beautiful at the recently held premier of her superhero movie 'Avengers: Age of Ultron.' Scarlett puts her amazing weight loss post pregnancy to breastfeeding. She insists that not only it brought her close to her daughter Rose, but also helped her get back in shape. Scarlett has also revealed that the joy of being a mother comes well before than anything else, she has yet experienced in her life. Though, she is struggling to get sleep in the night, but she finds the responsibility of being a mother exhausting in the most wonderful way. The feeling of joy, she states is explosive, one which she would love to bottle and carry around.
Ashton Kutcher and Mila Kunis is one of the most adorable couples in the Hollywood. In their public appearances and outings, they seem to be comfortable, happy and extremely in love with each other. There isn't any forced smiles or pre-planned PDA at the red carpet of award shows. And, we guess that is what makes their relationship special. The couple has remained fiercely private of their relationship and birth of daughter Wyatt Isabelle, who was born on October 1, 2014. In a rare personal interview, Mila revealed that motherhood has been a life changing experience for her and has made her to look at the world from a different perspective. And, oh, she is proud to be a stay-at-home mom and has no desire to be in front of the camera any soon.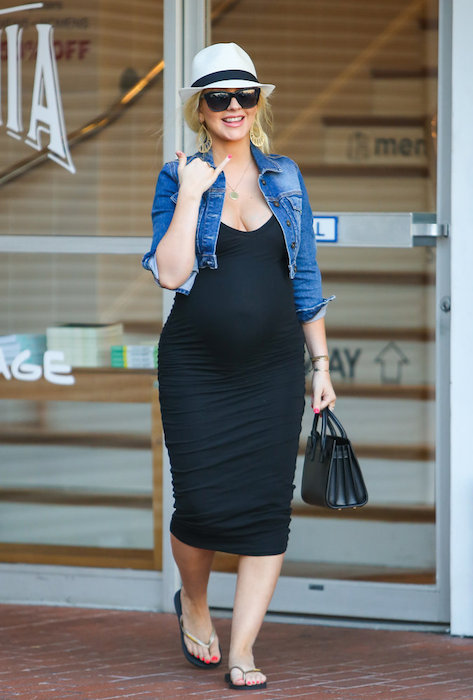 Christina Aguilera, who is one of the most popular pop icons gave birth to her second child, a daughter, in August 2014. The famous singer, who has sold more than 50 million albums and has won five Grammy Awards, revealed that her children, newborn daughter Summer Rain and son Max constantly inspire her and every day with them is a new and fun adventure. She just loves lazing around and watching Disney movies with her children. Christina, who is also a coach on the reality singing competition show 'The Voice' has also claimed that her children brings a relaxing balance to her hectic life.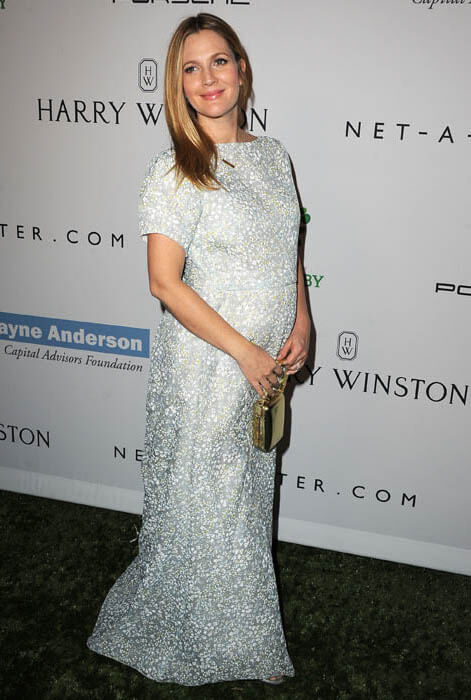 With the birth of her second daughter, Frankie Barrymore Kopelman, Drew Barrymore has come a long way from her turbulent past, which has been littered with drug addiction and string of failed relationships. The former child star has attributed her family life for a shift in her thinking. She revealed that because of her two daughters, now every decision she takes, revolves around her number one priority – her family. Drew, who had to endure a rocky and turbulent childhood due to her parent's divorce and lack of presence, insists she wants to give her kids an exact opposite childhood, for which she is ready to sacrifice her acting career.
Kerry Washington has won several accolades for her role as Olivia Pope, a crisis manager in the ABC drama series 'Scandal.' And, the amount of hard work and commitment, she puts in for her role justifies all the acclaim. Last year, despite being pregnant, the 38 year old actress gave a masterful performance in the hit series. Now, we all know how difficult and taxing pregnancy is on a woman and add to the equation the immense stress and pressure of working in one of the most widely watched series. Tough and daunting, isn't it? Yes, it is. And, this alone makes Kerry one of the finest actresses from my perspective.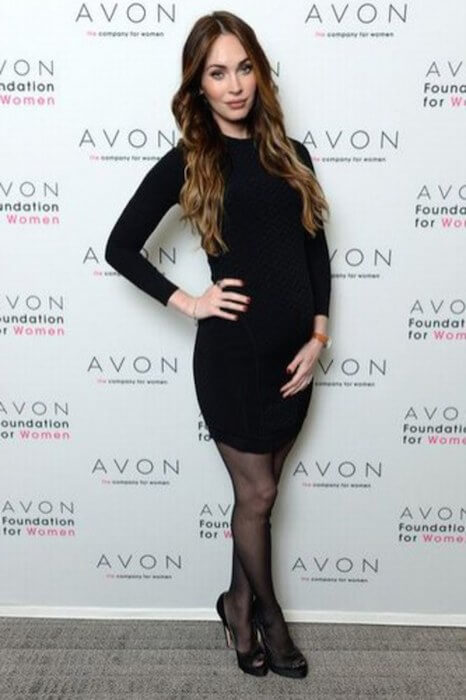 After Kerry, Megan is second actress in our list, who had to grapple with acting and pregnancy at the same time. What made Megan's task even harder, was that she had to shoot a lot of action scenes for the movie 'Teenage Mutant Ninja Turtles.' Megan revealed in an interview that she spent the whole shoot running, screaming and on the verge of vomiting. On the plus side, giving birth to two sons has taken away the fear of being in front of the camera. She claims having pushed two children out, doesn't leave much that could scare you. And, you can't argue with that line of thinking.
Blake Lively has excelled as an actress, model, and blogger. And, is working on being a success as a mother. However, she admits it would be much difficult than her former roles. In an interview, she went on to compare raising her daughter, James to living with a drug addict. But, then she has also claimed that having babies is addictive and would love to have more. During the promotion of her recent movie 'The Age of Adaline,' she looked slim and beautiful as ever, something which she attributes to motherhood.